About Us
We believe that women of all shapes and sizes deserve to look great but also feel their best in the pants they wear — point finale. After all, pants can be likened to a second skin, meant to move with you as you navigate your day, no matter what you have planned.
In 30 years of working in fashion sales, Lisette L founder and creative designer, Lisette Limoges, and her husband Neil had yet to come across a pair of pants that fit the bill when it came to both comfort and style.

So, in 2001, they set out to design something that would fuse fashion with both fit and function; a piece that could empower any woman to feel amazing while tackling whatever comes her way.

What they created was a pair of perfectly fitting pants.
What began with the design of a simple pair of black pull-on pants has since blossomed into what Lisette L is today.

As a Montreal-based, family-run pant company recognized around the world for its perfect fit, sculpting technology, and on-trend styles, we take great care to ensure each style is crafted with love and appreciation for the female figure.

Worn and praised by the likes of Oprah Winfrey and NBC Today's Kathy-Lee Gifford, our pants are meant to enhance all body types so that you can feel confident in your skin and, of course, the pants you wear.
COMFORTABLE STRETCH FABRICS
We consider the fabrics we choose to form the foundation of a great fit and feel.
Elastane and Lycra are what give our pants the right amount of stretch to create form-flattering silhouettes that last wear after wear.
We also work with Cotton, Sustainable Tencel Fiber, and Viscose to ensure breathability, softness, and fluidity.
By combining these materials with our carefully thought-out hip structures, and infusing each piece with texture and design details, we create styles that are as chic as they are comfortable and, importantly, suit all body types.
What's more, because our pants are made of easy-care fabrics, simply add them into your washing machine and hang to dry.
TUMMY CONTROL TECHNOLOGY
All of our styles are crafted using Tummy Control Technology, which creates an effortlessly smooth and trim silhouette every time you wear our pants.
Providing extra support by gently contouring the mid-section, a built-in mesh panel works to lift, tuck, and slim out the stomach area while enhancing your natural shape.
Comfortable, discrete and effective, this hidden feature is your best-kept secret.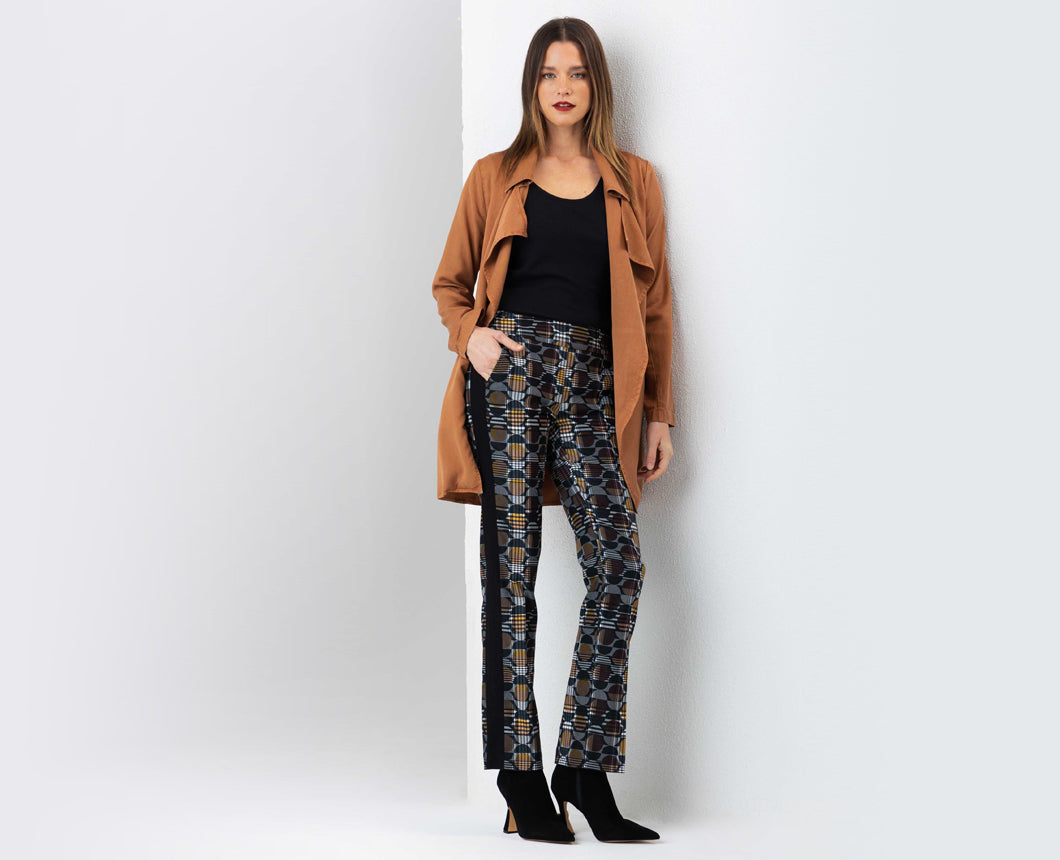 EASY-TO-WEAR PULL-ON STYLES
Why waste precious time fiddling with buttons and zippers when you could pull on a chic pair of trousers and get a head start on your day?
Effortless, comfy, and incredibly forgiving, pull-ons are the ideal style for any occasion, whether it's a business meeting, a dinner, or a date with your littlest family members.
Our elastic waistbands sit high enough on the hip to give you the freedom to breathe, move, and take on the day, no matter what you have planned.
Pick a pair, pull them on, and you're all set!